The days of over-tweezing and excessive plucking are over – bold brows are finally in.
Not only do thicker, darker, and more defined brows elevate any look, but they draw attention to your eyes. We're convinced that a bold brow suits every face, but the reality of achieving this look can be heavily reliant on genetics.
And let's be honest: not everyone was born with Cara Delevingne brows. Some of us require a little extra help from a local med spa – and that's okay! Our team of eyebrow experts offer a long list of treatments for brows that are out of control, out of shape, or simply nowhere to be found.
Let's break down the options.
7 Treatments Recommended by Eyebrow Experts
Front tinting to waxing, Facetté offers a brow treatment for everyone. Here are the top 7 that our eyebrow experts recommend.
1. Henna Brows
Chances are, you've heard of henna tattoos on the hand or face, and this is no different.
The plant-derived Henna substance is used to tint the brow area, essentially adding color to the skin & hair in order to fill in gaps or cover thinning areas. This is great for adding dimension, color, and fullness to the brow area.
Often times, we recommend Henna brow treatments to clients who want to embellish their eyebrow color or cover gray hairs, because it's a fantastic way to try out a shape before committing to semi-permanent makeup. For those who just want their eyebrows shaped and filled temporarily, henna is a great option.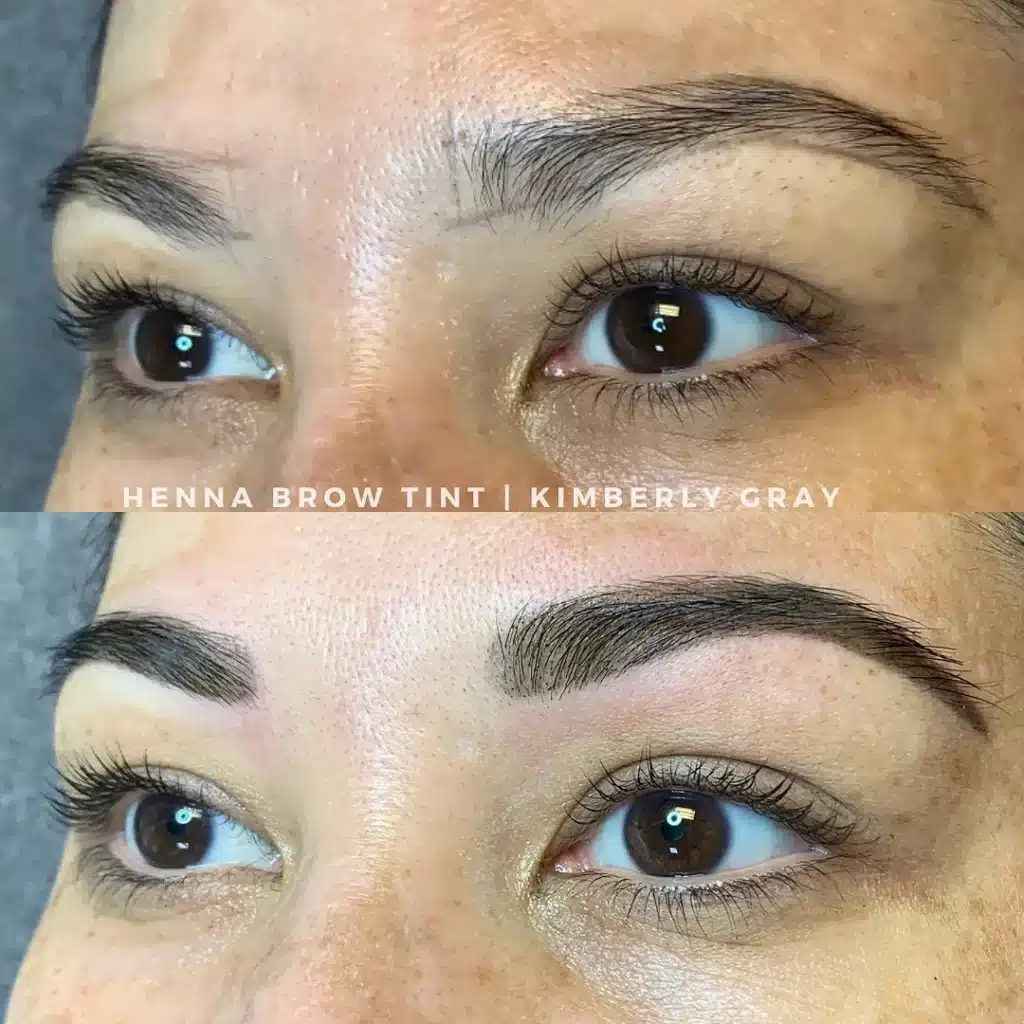 How long does it last?
Your skin will remain tinted anywhere from 2-10 days depending on how you care for them at home, but your brow hairs will hold that color for up to 6 weeks.
2. Brow Tinting
Looking for a boost of color for your brows? Brow tinting is going to be perfect for you! Adding a tint instantly makes your brows more defined and bold, and even better yet? Totally cuts down on daily eyebrow care.
Although this brow service is great for all kinds of clients, we typically recommend it to people who are happy with their eyebrow shape and don't require any other shaping & simply want to change their brow color. Whether they have blonde brows and are hoping for something darker or they are tinting their brows to match a new 'do, we can help.
Getting your brows tinted is similar to getting your hair done. First, we'll find the perfect color based on skin tone and hair color, then we'll apply it to the brow area. Unlike henna brows, tinting does not affect the skin, only the hair. All in all, it's really the perfect short-term brow solution!
How Long Does Brow Tinting Last?
The tint will last anywhere from 2-4 weeks depending on your hair growth cycle and the after-care followed.
3. Brow Lamination
If you want fluffy and full eyebrows, this is the service for you! It works great for those with thin or thick eyebrows, and is very natural looking without the permanence of other treatments like Microblading.
Brow lamination is a non-invasive method used to create fluffy boy brows, tame unruly hairs into shape, and give the brow hairs some direction.
The eyebrow experts will 'perm' the eyebrow hairs using a series of skin-safe chemical solutions to straighten the brows, brush them up, and set them in place with a neutralizer. Styling the hairs upward in a uniform vertical direction actually gives the illusion that you have much thicker brows than you really do. Many salons, including Facetté, will also shape and tint your brows for a more polished look.
This eyebrow enhancement treatment is completely customizeable! Some people prefer their brows more straight and angular, while others want a more structured frame. Just let your stylist know your preference before getting started!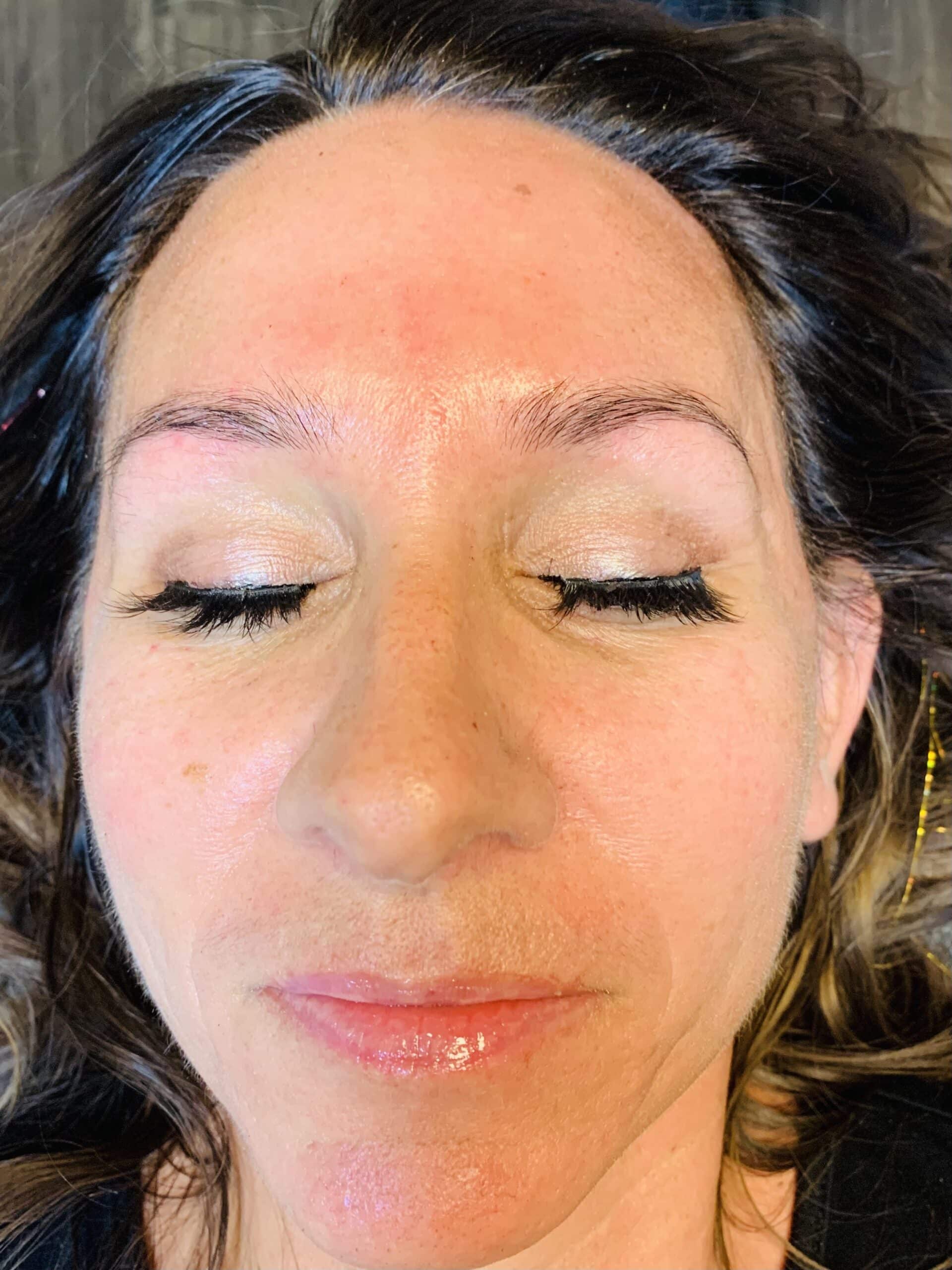 How long does brow lamination last?
Brow lamination lasts 6-8 weeks with little to no maintenance. Get ready to take some Instagram-worthy selfies of your new stunning brows.
4. Microblading & Ombre/Powder Brows
While both of these permanent makeup solutions result in a long-lasting brow with renewed shape, structure, and fullness, the results can look very different.
Microblading
Using a tattoo technique, Microblading uses tiny hair-like strokes to insert micro-pigments into the skin. This can help fill the areas of the brow that are more sparse, as well as reshape the brows by adding new "hairs" to fill out the shape. The look is very natural, as it mimics normal hair growth and adds definition, shape, and color.
Ombre/Powder Brows
Similar to Microblading, the ombre/powder brow technique also inserts brow micro-pigment into the skin. Instead of hair-like strokes, however, this method uses a machine pen to create tiny dots throughout the brow.
This results in a powdery, makeup-like effect.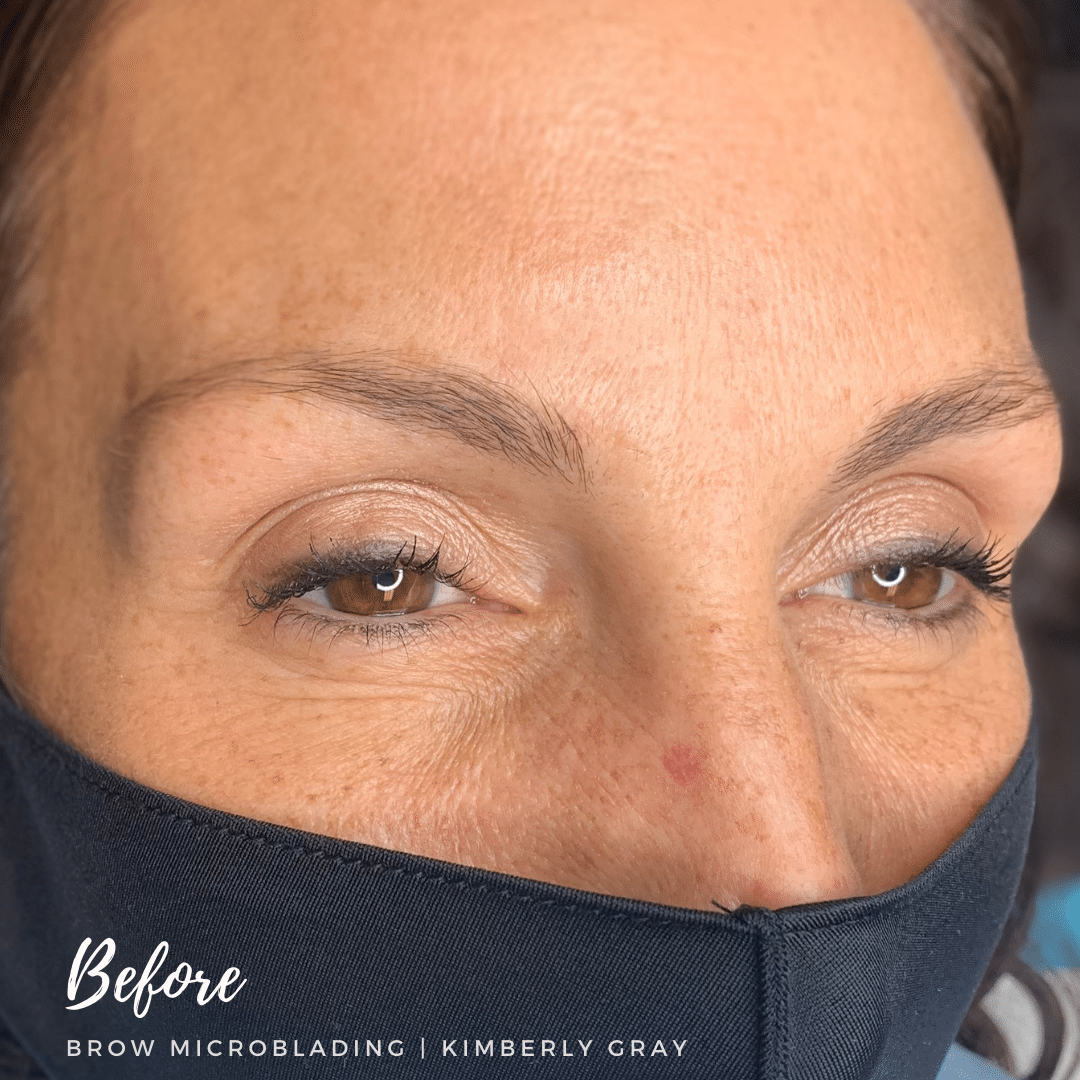 How long will Microblading & Ombre/Powder Brows last?
Within the first two weeks, your brows will heal, and the color will lighten up to look more natural. Your gorgeous new brows will last up to two years with proper after-care, typically requiring a refresh at the 6 month to a year mark.
5. Waxing
If you're already rocking thick, luscious brows that are in need of a little damage control, waxing is a great option! At Facetté, we use waxing to effectively remove hair from the brow area in order to let your natural brow shape shine.
Here's how it works: A thin layer of warm (not scalding hot) wax will be applied over the area from which you wish to remove hair. A strip of fabric is placed over the wax and is then pulled off quickly to remove the hair underneath.
When done properly, waxing is applied at a temperature that softens the pore and allows the hair to be removed. Typically, this option works best for people going for a strong, sculpted arch.
How long does waxing last?
Usually, a professional brow wax will last somewhere between 2-3 weeks, but this can fluctuation depending on hair growth rates per person.
6. Brow Threading
As one of the most precise forms of hair removal, threading is a great option for the clients who have a good brow foundation, but need some help restoring shape. Because it is organic, dermatologist-recommended, and beneficial to people with sensitive skin, it's no wonder so many love threading.
This centuries-old method of hair removal originated in India and requires very little contact with the skin. By rolling two cotton pieces of thread over the surface of the skin, eyebrow experts can drive unwanted hair out of the follicle.
And an added bonus to threading? You can continue to use topicals like RetinA or AHAs on your skin.
7. 'Wow Brow' Treatment
This non-surgical solution creates a brow lift effect by cooling, calming, and awakening tired eyes using a high concentration of Hyaluronic Acid and Atoxelene (potent peptide and botanical blend serum).
During the WOW brow treatment, Hyperbaric Oxygen under pressure is used to gently give an instant lift to the brow area, as well as firm and plump the fine lines around the eye area. Here at Facetté Medical Spa, we recommend pairing this treatment with the IntraCeuticals Atoxelene Pen or serum to aid in the longevity of the treatment.
Your skin will instantly feel rejuvenated with improved volume – great for pre-event pampering!
Which Eyebrow Treatment Is Right for You?
This will depend on a few factors – budget, natural eyebrow shape and density, and desired results. Our eyebrow experts at Facetté would be happy to schedule a consultation and help you decide on the right treatment plan.