Wish you could wake up with incredible hair every morning? Roll out of bed with great volume, texture, and curl?
You're not the only one.
Lucky for you, there are several ways to achieve easy heatless overnight curls. We're talking minimal effort, easy steps, and big payoffs. Whether you're growing your hair out, taking it easy between color sessions, or trying to save time styling in the morning, you've got to give these a try.
Keep reading to see what might work best on your hair…
5 Ways to Get Easy Heatless Overnight Curls & Waves
Although these easy heatless overnight curls and waves will require a little bit of prep work before bed, they don't take nearly as much time as styling with a heat tool. And with the same results, the decision to style overnight is a no-brainer.
Here are our favorite methods:
Use Rollers or Curlers
Need: rollers or curlers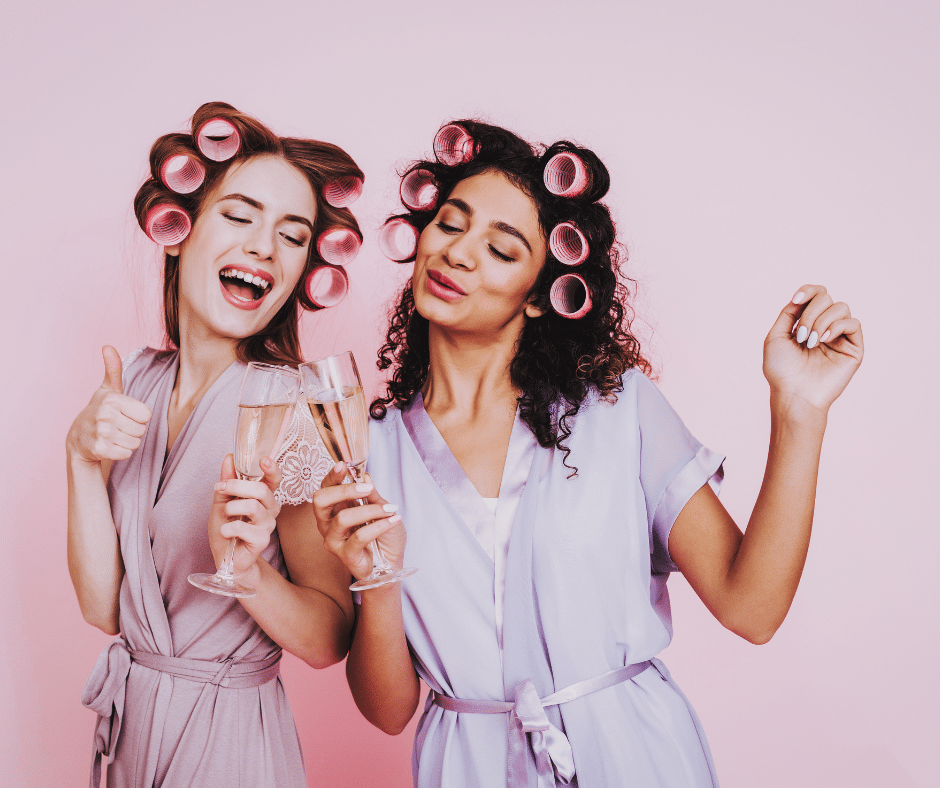 This one isn't necessarily new but definitely effective. Simply section out slightly damp hair and use roll each section up in a roller or curler.
If you want a more defined curl, use smaller sections with more curlers. For a looser curl, opt for a larger roller or curler and bigger sections of hair.
Once your hair is wrapped and ready to go, you can head to bed! The curls will dry and set overnight. When you wake up, you just need to remove the curlers and run your fingers through the waves to give them more of a natural finish.
Try the Wrap-Around Method
Need: Something to wrap the hair around – can be a robe tie, leggings, socks, bandana, or Flexi-Rods
The idea behind this one is pretty basic. You'll wrap sections of semi-damp hair around a cylinder-shaped object, and allow it to dry overnight. Some people like to use a Flexi-rod, but you can use common household items such as a robe tie, leggings, or socks to get the same results.
To give you an idea, we'll talk through the 'robe tie' method:
Step 1: Lay the robe tie over your head like a bonnet. Make sure it is centered, with the middle of the tie on the middle part of your head.
Step 2: Part your hair in two sections and pin one section back before you begin.
Step 3: Use a clip at the top of your head to keep the robe tie in place while you work (optional).
Step 4: Starting with the portion of hair that is not tied back, begin wrapping a small section of hair around the tie like you would a curling iron.
Step 5: Continue wrapping your hair around the tie, adding new hair to the twist each time until all hair is being wrapped together. When you run out of hair, use a scrunchie or hair tie to secure the twist.
Step 6: Untie the other section of hair and repeat Steps 4-5.
Step 7: With both halves of your hair twisted around the robe tie and secured in place, you can tie the two ends of the robe tie together around your head.
Step 8: Go to bed and carefully remove the style in the morning. Brush through the curls with a comb or your fingers to loosen them up.
Need a visual? These video tutorials walk you through the various ways to accomplish this method using common household items:
Twist Your Hair into Buns
Need: hair ties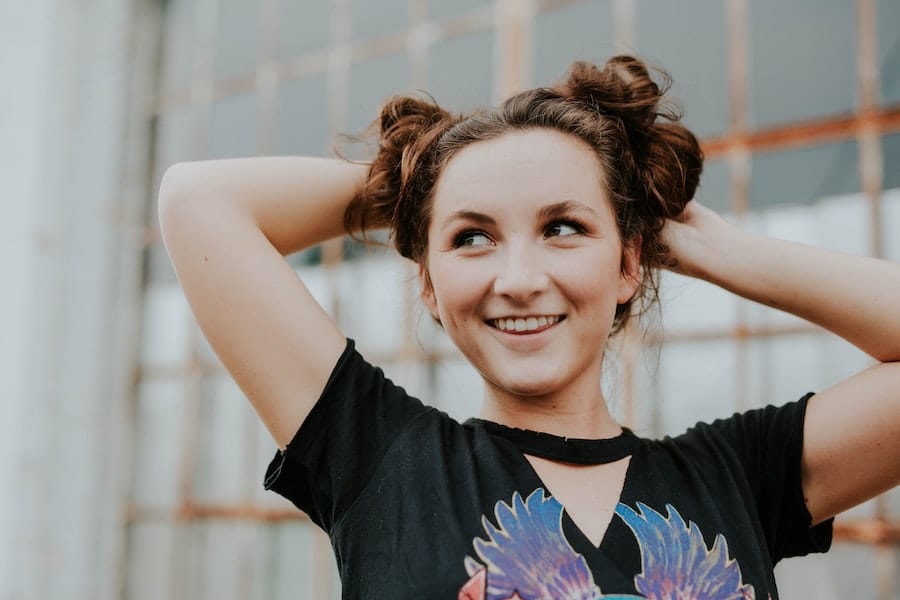 Another way to get larger-than-life curls? Section partly damp hair (the smaller the sections, the tighter the curls) and twist each section until the hair begins to coil in on itself. Once you've twisted the section fairly tight, create a wrap-around twisty bun. Secure with pins or hair ties, and then repeat the process for each segment of hair.
When you wake up in the morning and undo the style, you should have naturally curly or wavy hair, depending on how tightly the hair was coiled.
Pin Your Curls
Need: Hairpins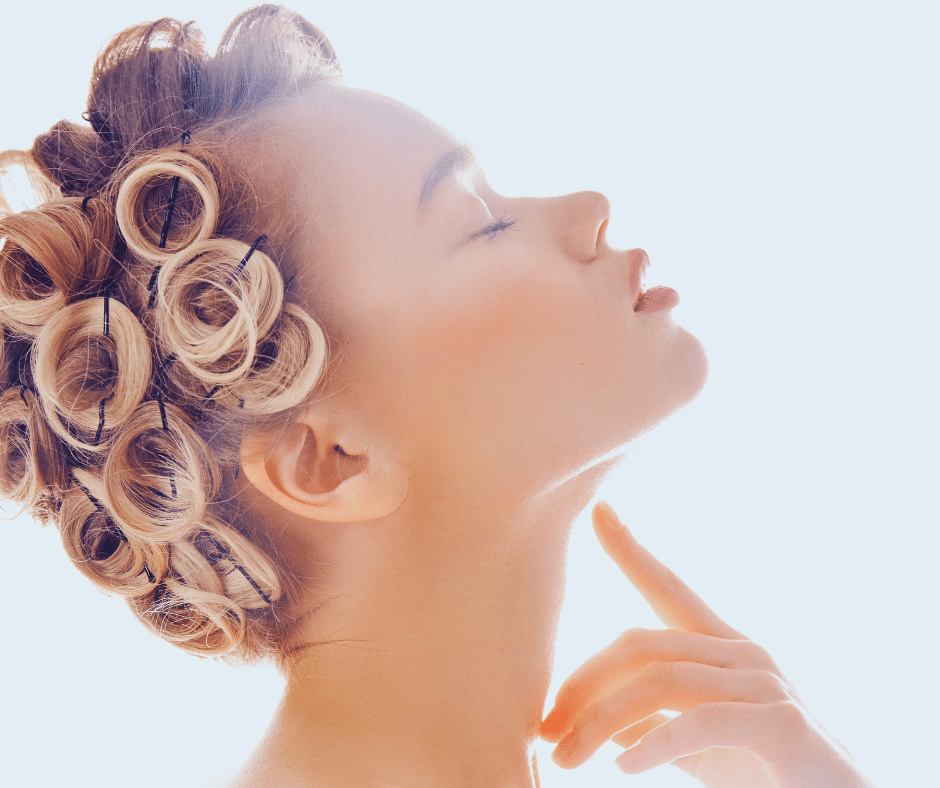 Now, this method for easy heatless overnight curls may take some additional time.
Similar to the others, you'll need to segment the hair – but in much smaller pieces. Each segment needs to be rolled up until the hair looks like a loop. Using bobby pins, you can secure the loop in place and repeat it for the rest of the hair.
Get a good night's rest and wake up to Hollywood waves.
Braid
Need: hair ties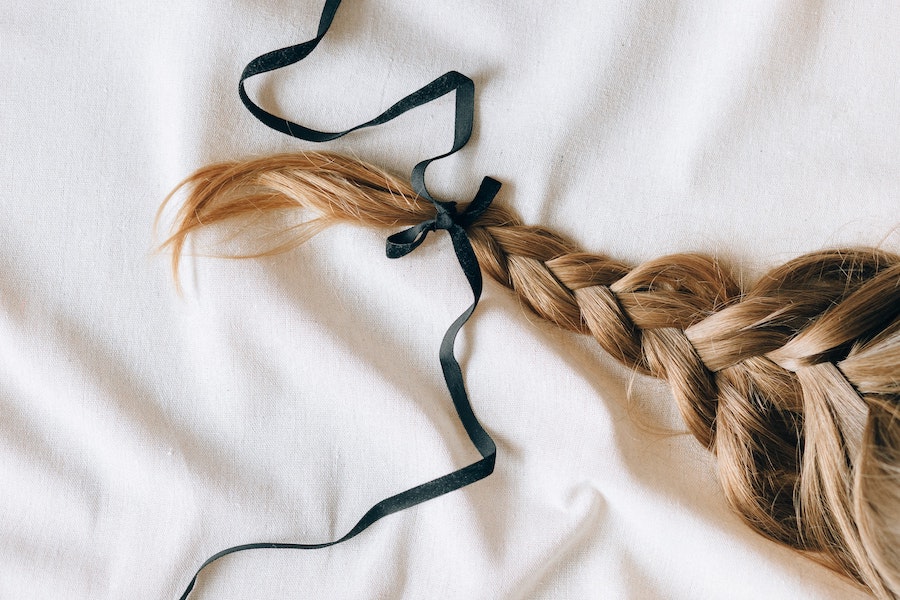 Looking for more of a loose wave? Braiding is one of the oldest tricks in the book.
Part your hair where you'd like to wear it and loosely French braid each side. The style will hold best if you do this with slightly wet or damp hair.
When you take the braids out in the morning, you'll have a pretty wave with some natural body from root to tip.
Tips for Success: Easy Heatless Overnight Curls Edition
If you're thinking of trying these easy heatless overnight curls, make sure you don't make a rookie mistake and end up with hair that just looks 'okay.'
Don't Style with Soaking Wet Hair
These methods need to be used with slightly damp hair, not wet hair. If your hair is too wet, it won't be able to dry overnight, and the curls will fall out right away. Not to mention, it will pull at your hair and potentially damage the strands.
Using slightly wet or damp hair will give you the best chance at styling.
Products Will Help
For extra hold, curl definition, and texture, products can be a lifesaver. Consider a texturizing spray or volume spray before starting the curl method. For additional hold, a light spritz of hairspray to set everything also helps.
Don't Pull Too Tight
When you're twisting, pinning, styling, or braiding, make sure to keep the hair secure without pulling too tight. A lot of strain can create stress and breakage, and nobody wants that.
Get in touch today to learn which styling products will help nourish, smooth, and hold your new easy heatless overnight curls. We offer a ton of different salon-quality products at Facetté.