"Low maintenance" beauty routines are on the rise! Things like tattoo eyeliner, lash extensions, and microblading – are being done more and more in an effort to simplify our morning routines or to simply enhance our features. Permanent eyeliner defines and enhances your natural look 24/7, no matter what you are doing.
What is Permanent Eyeliner? Is it Really Permanent?
All forms of permanent makeup are technically classified as a tattoo. In other words, they involve implanting color/pigment into your skin with a tiny needle. Permanent eyeliner isn't going to wash off with the rest of your makeup at night, but it will gradually fade away within a year or two. For this reason, semi-permanent is probably a better description.

If you're wondering why permanent eyeliner eventually fades out but regularly tattoos last for years, it's because the pigment implanted for permanent cosmetics doesn't go nearly as deep into your skin. This is the same process you see with microbladed brows, as well, which also fade.
What is the Process of Applying Permanent Eyeliner?
As for the actual process of applying tattooed eyeliner, your artist will clean the area with an eye-approved antibacterial, apply an ointment to the eye that will act as a barrier to protect your eye and then apply a numbing cream to help reduce discomfort. Then micro-pigment specifically designed for use in permanent cosmetics is implanted to create an enhancement within the lash line and/or full eyeliner just above the lash line.
Does All Permanent Eyeliner Look the Same?
Definitely not. The tattoo eyeliner color is customized to your preference, and your artist will also work with you to determine what shape or thickness of a line is the best for your specific shape and look you're wanting to achieve.

My goal is to give the eyes a boost. Create lashes that look fuller and the eye brighter and more defined. The shape should be as conservative as possible so that it naturally enhances your eyes without makeup, keeping in mind that your traditional makeup can be added for a more dramatic or evening look. I'm a huge advocate for improving what you have and keeping it natural. The best results are when nobody can tell you have enhanced anything when you're without makeup.
While you can technically get different colors applied again, I'm adamant about keeping permanent eyeliner as simple and natural as possible. That being said if your complexion is lighter, you'll want to stick to a brown versus jet black for example. Using colors like blue, green or even purple are trends that may not last the duration of your permanent eyeliner so I highly discourage their use, not to mention they are not a natural look nor do they fade well over time. Your permanent makeup artists knowledge in color theory plays a key role here. I know which colors do and don't blend on different skin tones, and understand which molecules in the pigment being used will fade and at what rate.
Does Tattooed Eyeliner Hurt?
I know what you're thinking. A tattoo? On my eye? Surprisingly though, tattooed eyeliner doesn't cause as much pain as you might expect.
Once I start the tattoo process the main thing my clients feel is a vibration. Most clients say they feel minimal discomfort but that it's completely tolerable. There is no bleeding and usually minimal swelling/redness. Additional numbing agents are added throughout the procedure to keep the entire process more comfortable.

Afterward, a thin coat of eye ointment is applied to the area. Though there's little downtime, aftercare is still important. There are some key things to avoid; you shouldn't expose the area to water for a week, avoid dust and debri from getting into the area and eye makeup (in particular liner and mascara) should be avoided. That being said if you have lash extensions these will need to be removed and not reapplied until your eyeliner is fully healed (about 4 weeks, to be safe).
It's also very important to follow your artists pre-treatment care instructions. For example, things like lash growth serums need to be discontinued for a month prior to treatment. These products can make the area more sensitive during the procedure and after.
How Long Does Permanent Eyeliner Last? 
Permanent makeup, including tattooed eyeliner, looks best for about one year. Depending on how well your eye holds the color, it can last for up to two to three years before you have to consider getting it touched up. Over time, the color will naturally fade until the molecules all dissipate.

Like everything in the beauty world, permanent eyeliner requires some upkeep if you want to maintain the look. You'll likely need to go for touch-ups/color boost about once a year. Note that things like aftercare (such as not getting your skin wet), general lifestyle factors, diet, skincare products, meds, and sun exposure all play a role in fading. Your artist can walk you through how to properly tend to your permanent eyeliner to help make it last.
What Are the Benefits of Permanent Eyeliner?
The majority of women complain about how long it takes to apply eyeliner to get it just right to only see their efforts smudge or melt away minutes into their day. Permanent eyeliner helps address that. Active people who want to look their best when swimming, working out or hiking have the benefit of it not sweating off or having to reapply afterward. Clients go from 'wake up to make up' and start their day with natural-looking, effortless eyes.
Permanent eyeliner is a game-changer for people who can't wear regular makeup due to sensitivities and allergies, and for those who have vision issues or dexterity conditions that make it even that much more difficult to apply traditional makeup.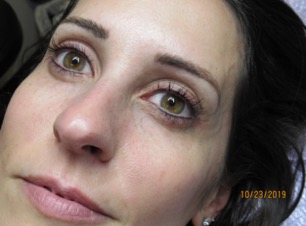 Note: permanent makeup is not recommended for any clients who are or have:
Pregnant or nursing
Diabetic (un-managed)
Bleeding disorder; on blood thinners
Undergoing chemotherapy (consult your doctor)
Viral infections and/or diseases
Epilepsy
A pacemaker or major heart problems
Had an organ transplant
Skin irritations or Psoriasis near the treated area (rashes, sunburn, acne, etc.)
Sick (cold, flu, etc.)
Had Botox in the past 2 months
Used Accutane in the past year
– Kimberly Gray | Medical Aesthetician, PMU Artist