If you want a new look but have no clue where to start, this blog is for you! We'll be outlining some of our favorite long to medium haircut styles for women, so you don't have to stress about it.
While each of these haircut ideas for women were formulated with the client's hair type, face shape, and strand health in mind, there are universal aspects in every style that can be adapted for you! Let's dive in.
Top Long & Medium Haircut Styles for Women
Locks by Lauren
This one goes out to all you ladies with thin or fine hair. We're going to share a secret with you: You don't have to sacrifice volume and fullness just because you have thinner hair. This medium haircut style for women utilizes the Calligraphy Cut to add body & thickness.
Our stylist Lauren also incorporated some soft layering around the face to draw attention there and create the appearance of movement and depth. This look is classic – tried and true.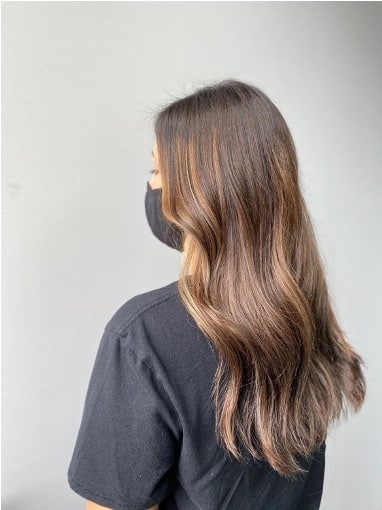 When dealing with longer hair styles, our team at Facetté loves to add movement and body for a livelier look.
With this style, Lauren really wanted to create some dimension without losing length. To do this, she added balayage highlights to brighten the hair and used the Calligraphy Cut to create additional movement.
Her goal with this particular women's haircut was to make the lighter pieces pop and draw attention to the longer layers. You can see this happening in the photo to the left.
Medium Haircut Styles for Women by Krissy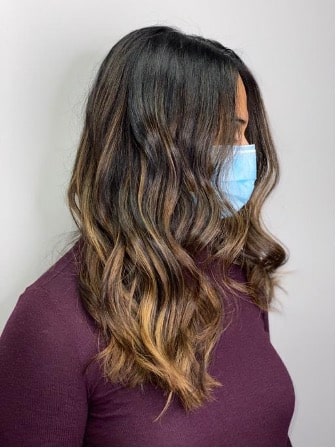 For this client, our stylist Krissy began by lightening the hair using a foliage technique to create a fun, color pop that would require little to no upkeep.
Keeping with the low maintenance trend, Krissy went for a medium-length haircut with long layers to make future haircuts even easier. These layers make the transition to and from extensions so simple, while providing additional movement that is soft. This cut works beautifully for people with natural, wavy hair.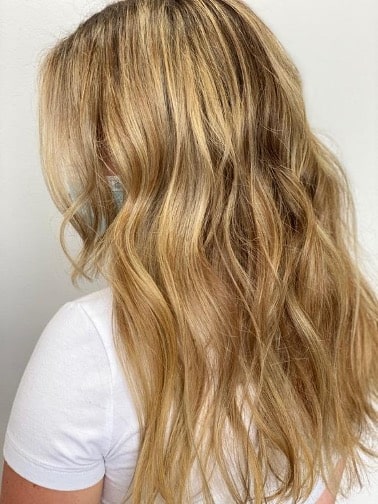 After some gorgeous baby-highlights and balayage, this client wanted to refresh their hair and restore some life & body.
As you can see by the photo, Krissy delivered! This medium style haircut for women is heavy on face-framing layers & is best displayed with beach waves!
Taylor's Favorite Styles
This next haircut idea for women is a fun one. You may have heard it's name before…
That's right! We're talking about the infamous shag. With face-framing layers, textured hair and bangs, and soft and piece-y styling, this cut has the power to transform an entire look. And the best part? The shag works all lengths of hair – from short to medium to long.
As an added bonus, this haircut for women adds a certain lightness to naturally thick hair in such a flattering way.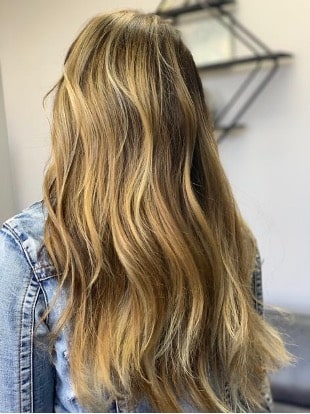 Our stylist Taylor had so much fun this with long women's haircut – see the different kinds of layers and dimension?
By blending shorter layers in the front and longer layers in the back, this medium haircut style for women gets an A+ for body, volume, and face-framing. Not only does this style lighten and texturize the client's thicker hair, but it also gives it a little more bounce.
Which haircut is right for you?
Every person's haircut preference will be different, but our stylists at Facette are happy to help you make a decision! We take hair health, type, length, and face shape into consideration to decide on a cut that will have you feeling your absolute best! Schedule your appointment today.