Are you tired of dealing with damaged, frizzy hair after blow drying?
Don't worry – you can have the best of both worlds: a sleek, stylish blowout AND healthy, vibrant locks. It's all about using the right tools and techniques.
In this blog post, we'll share some of our tried-and-true tips for how to dry your hair without damaging it. Grab your blow dryer, your round brush, and your favorite heat protectant, and let's get started!
How to Dry Your Hair Without Damaging It
1. Don't Blow Dry Soaked Hair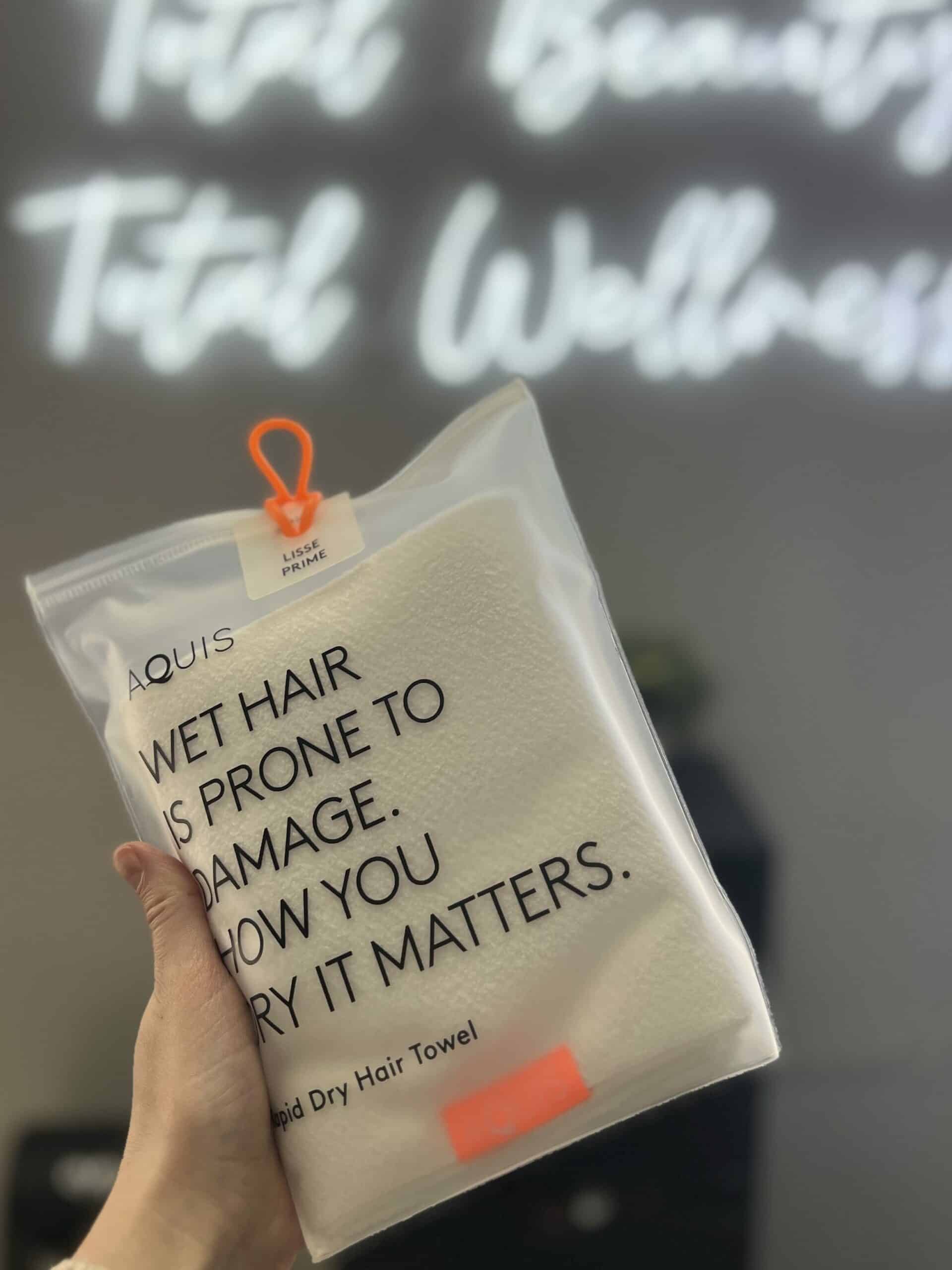 It's important to let your hair towel dry or air dry just a bit before applying any heat. If your hair is too wet, you'll see additional frizz when drying. Plus, it will take longer to dry and you'll have to use more heat, which can lead to damage.
For a smoother finish, gently towel dry your hair or let it air dry for a few minutes before using a blow dryer. You can also use a microfiber towel or a cotton T-shirt to gently squeeze excess water from your hair without causing damage. Our favorites? The Aquis hair towels and wraps (available at Facetté).
2. Use a heat protectant
Before you start blow drying your hair, apply a heat protectant product to shield your hair from the damaging effects of heat styling. Kerastase L'incroyable Blowdry Serum and Oribe Imperial Blowout Transformative Styling Creme are two of our holy grails, but we have tons of other products to choose from!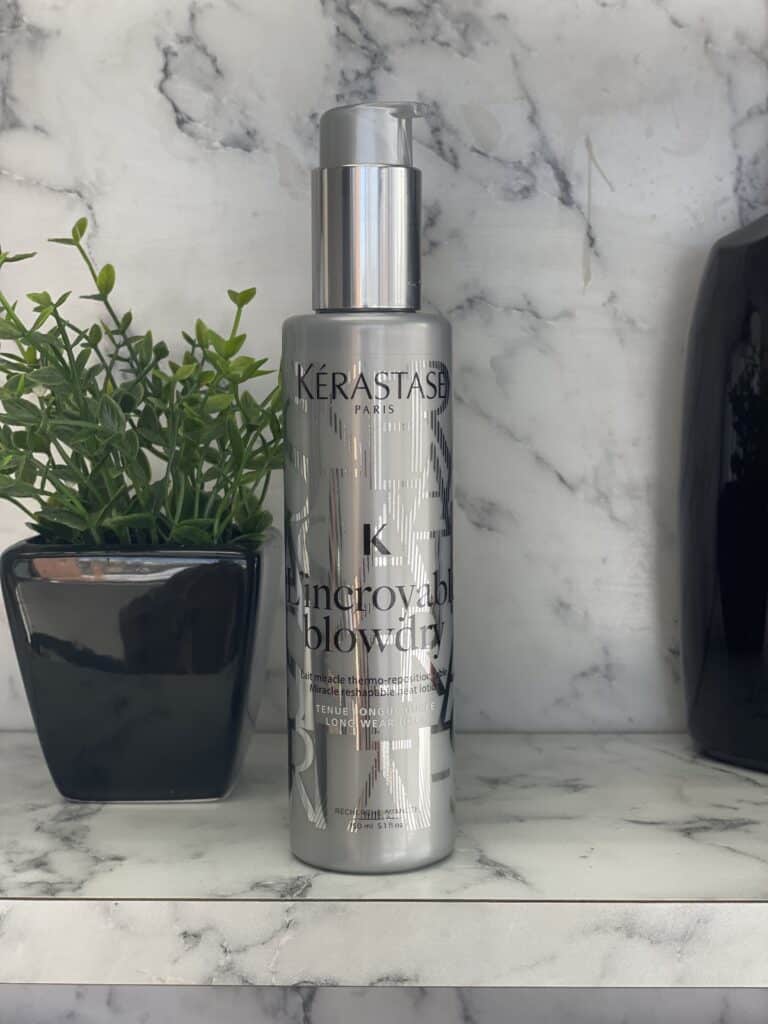 Find what works for you, so you can discover exactly how to dry your hair without damaging it. We can provide product suggestions if you stop by.
3. Blow dry your hair in sections
To avoid exposing your hair to too much heat at once, it's important to blow dry your hair in sections.
Divide your hair into sections using clips or hair ties and focus on drying one section at a time. Use a round brush to lift and smooth each section as you dry it, and make sure to keep the blow dryer at least 6 inches away from your hair. This will help distribute heat evenly and prevent damage.
4. Start on low heat
Use the lowest heat setting on your blow dryer to minimize damage to your hair and don't get too close.
It's best to hold the blow dryer at least 6 inches away from your hair to avoid direct heat exposure.
5. Use the right tools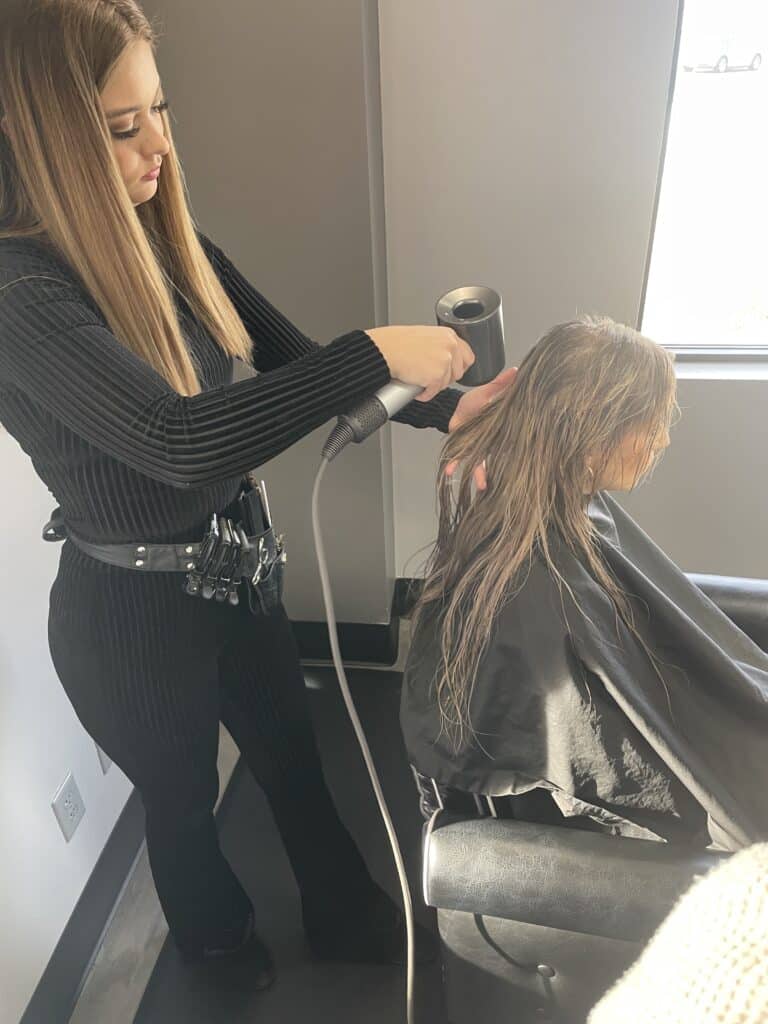 Let's face it: not all blow dryers are made the same. Remember that, and you'll be well on your way to discovering how to dry your hair without damaging it. Some blow dryers offer a wide range of heat and speed options, as well as additional attachments to make styling more customizable.
With the right settings, however, you are able to keep your hair healthy and hydrated. Make sure you choose your tools wisely! A good blow dryer is worth it.
Whatever you do – don't concentrate the heat on one area for too long. Keep the blow dryer moving constantly.
6. Finish with cool air
Use the cool shot button on your blow dryer to lock in your style and reduce damage caused by heat. This blast of cool air will seal the hair cuticle and add shine.
7. Don't stop until you're done
Blow drying the right way might take additional time, but it will ultimately produce the best results. Make sure to finish your blowout with completely dry, room temperature hair! If you give up when your hair is still damp, you're probably going to experience a lot more frizz and flyaways.
By following these tips, you'll know exactly how to dry your hair without damaging it. Once you get into practice, these habits will become second nature.
But if you need further advice or assistance, our team at Facetté The Hair Experience is always here to help! We offer professional blow outs, so you don't have to lift a finger for that smooth & sleek blow dried look.
Contact us to book today!