"I just LOVE my stubborn belly fat!" said no one ever.
And yet, we can all relate to the frustration. There is some stubborn fat that just won't go away – despite living a healthy lifestyle, experimenting with different eating habits, exercising regularly, taking various vitamins and supplements, and doing everything possible to get toned. No matter what, the fat doesn't seem to budge.
Until now, that is. With CoolSculpting treatments, you can finally tip the scales in your favor ­– literally and figuratively. Keep reading to learn how CoolSculpting in Fort Collins can eliminate stubborn fat cells with no incisions or recovery time needed!
Here's what you need to know about our CoolSculpting treatment in Fort Collins
How does CoolSculpting work?
CoolSculpting treatment is a nonsurgical way to contour your body by safely and effectively freezing stubborn fat away. Pretty amazing, right?
It all started when Dieter Mainstein of Massachusetts General Hospital and Rox Anderson of Harvard Medical School made one very important discovery: fat cells do not like the cold. In fact, fat cells don't just dislike the cold, they can't survive in it.
Thus, CoolSculpting was born.
While this service can be used on any part of the body, the most common CoolSculpting treatment areas include the upper or lower abdomen, anterior or posterior flanks (love handles), arms, knees, inner or outer thighs, and chin.
The initial treatment will kill the fat cells, but it may take your body 2-3 months to fully process and expel them. The good news is the final results are long-lasting and beautiful! The wait is totally worth it.
Is CoolSculpting treatment right for me?
While CoolSculpting treatments produce amazing results, they are not for everyone.
Unlike lipo-suction, CoolSculpting is meant only for stubborn fat. In other words, it should not be used as a weight loss tool in extreme circumstances.
That being said, the treatment is great for those who live a healthy lifestyle, but struggle to get rid of unwanted fat in targeted areas. At our Fort Collins medical spa, our perfect CoolSculpting candidate is…
Near their goal weight (within 20 lb.)
Living a generally healthy lifestyle
Visibly able to pinch their fat/fat bulges
Informed about the treatment
For the right person, a CoolSculpting treatment will work wonders – see for yourself!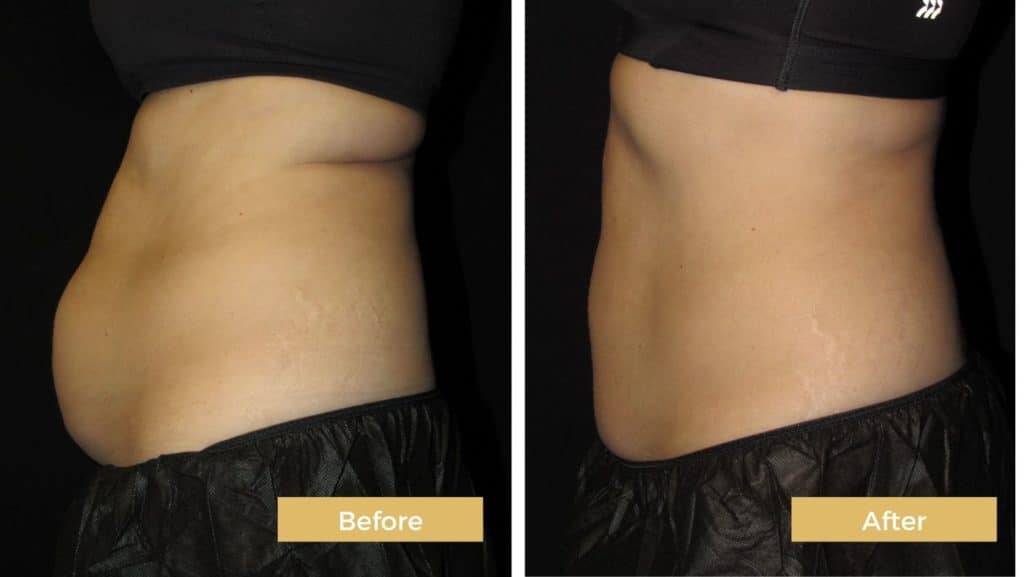 What can I expect at my Fort Collins CoolSculpting appointment?
Your CoolSculpting treatment at Facetté in Fort Collins will be safe and gentle with zero downtime!
All you have to do is show up. Our team of professional medical aestheticians will begin targeting your "fat zones" with a special tool, to freeze the fat cells efficiently.
For the first ten minutes or so, you might experience the feeling of mild pulling, tugging, pinching, cold, or tingling at the treatment site. This is totally normal! You can sit back, relax, and let us melt away the fat.
Depending on the size of the treated area(s), your appointment could take anywhere from one to four hours to complete, and 2-3 months to see full results.
But when the results are final, they're really final.
Who's ready to get started on their CoolSculpting treatment?
Give our Fort Collins medical spa a call at 970-900-2240 to schedule your complimentary consultation and discuss the CoolSculpting treatment cost. If you are a good candidate, the CoolSculpting treatment could be your miracle worker.