If you've ever left the salon with a new hair cut that matched your reference photo, but not your expectations: this blog post is for you.
A lot of factors can lead to a really great hair cut, but face shape is one of the most important. In order to find the best hair cut for your face shape, you must first identify which face shape you have.
This is key to finding great styles and feeling confident in your hair. Let's get started!
Identifying Your Face Shape
There are five main face shapes to consider: rectangle, oval, square, heart, and round. Take a photo of your face (head-on with your hair pulled back) and compare the outline and shape to the frameworks below: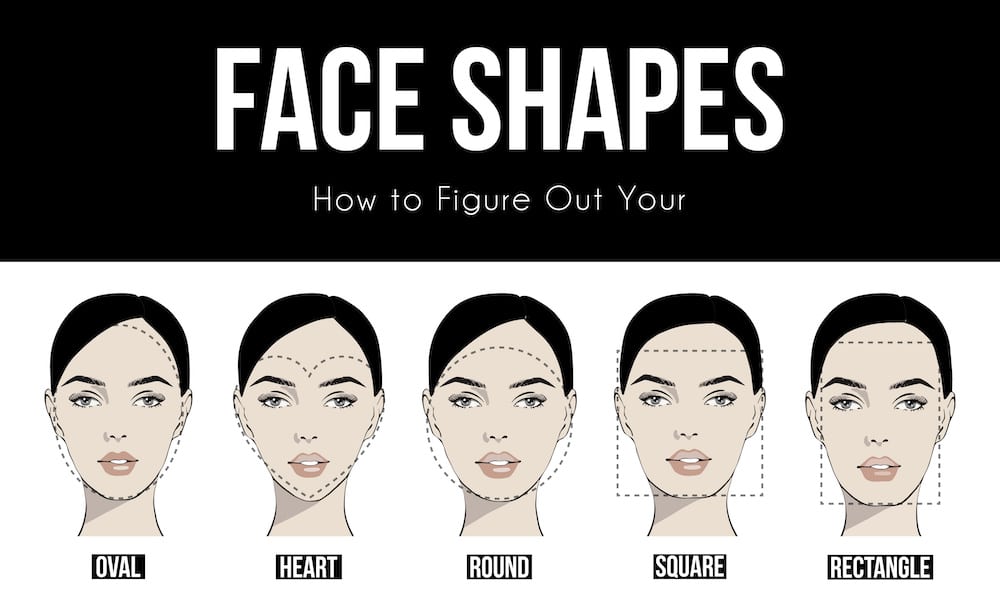 If you're still struggling, this guide can help!
Best Hair Cut for Your Face Shape
Rectangular-Shaped Faces
With a rectangular face, you're working with a strong jaw line and wide forehead area. That being said, you'll want to soften those features with some light, face-framing layers – round fringes or curtain bangs if you're looking for something fresh to try!
These styles will draw attention to your cheekbones and round out some of the more angular elements to your face. If possible, steer clear of blunt styles. These will emphasize and build upon your more prominent features in an unflattering way. It's also best to avoid longer cuts, as these can add unnecessary length to the face.
Here are some familiar faces with rectangular structures: Angelina Jolie, Jessica Parker, and Hilary Swank.
Oval-Shaped Faces
If you've got an oval-shaped face, consider yourself lucky! This is extremely versatile for styling.
Because an oval face is widest at the cheek bones and more delicate around the forehead and chin, the face has a very balanced look. That means that anything-goes in terms of hair cuts! Whether you're looking for something edgy, ethereal, or natural, you can't go wrong.
Oval-shaped faces can rock pixie cuts, blunt bobs, long locks, and everything in between. Curled styles look especially great since they add volume to the sides of the face.
Did you know these celebs were in the oval-faced fam? Emma Roberts, Kristin Stewart, and Bella Hadid.
Square-Shaped Faces
Square-shaped faces are known for their strong jawlines and broad, matching cheekbones & foreheads. To contrast the stronger elements, the best hair cut for your face shape should include soft, long layers and side-swept bangs. These styles highlight the more delicate parts of the face, drawing the eyes toward the cheekbones instead of the jawline.
These women definitely found the best hair cuts for their face shapes: Haley Bieber and Mila Kunis.
Heart-Shaped Faces
Because heart-shaped faces are known for theirbroad foreheads/cheekbones and slim, angular jawlines, it's best to contrast the stronger features with gentler styles.
The best hair cut for your face shape is going to be a side part (sorry, Gen Z!) with flowing waves and curls. All of these will draw eyes to the jawline, adding really beautiful movement and body to the hair.
Some great examples of heart-shaped faces are: Reese Witherspoon, Lucy Hale, and Scarlett Johansson.
Round Faces
For all our round-faced babes: stick to styles that add definition and shape! You've got a beautiful, soft face shape, so the best hair cuts for your face shape can be a bit more dramatic.
If you haven't already, give long, layered cuts a chance! And if that's not your style, you can play around with a choppy pixie cut or short fringes that end at the eye level. Both of these contribute to lengthening the face.
You might recognize some of these round faces and their iconic styles: Selena Gomez, Chrissy Teigan, Joey King.
Figuring Out the Best Hair Cut for Your Face Shape
When you're looking for the best hair cut for your face shape, you're really looking for a way to balance your natural features. Even with the information above, you still might struggle to identify your face structure and select the best hair cut for your face shape.
That's okay!
Any one of our professionally trained stylists would be happy to help. Get in touch to find out what our Fort Collins hair salon could do for you!